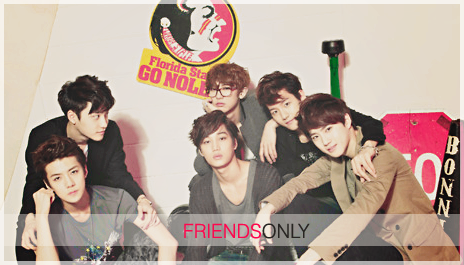 Welcome. This is my personal journal and it is about fangirling (Johnny's Entertainment, Super Junior, Big Bang, k-pop, etc), married life, my random fangirl dreams, pictures of hot guys, and many other random ramblings. Sorry, I have decided to go friends only. Friends only banner by
seetwopm
.
I love making new friends, so friend me, but don't friend me for scans.
I no longer scan Wink Up.
I don't have time to do it anymore. Check out
boys_paper
for what I have scanned because
I do not post them here
. My friending policy is pretty open,
but I will not friend back anyone under age 18. If biologically I could have been your mother, I will not friend you back. I usually friend back, but I will NOT friend empty journals unless I know you in RL or you comment somewhere letting me know who you are. I also will NOT friend you if your journal is totally f-locked and you don't even have an intro post.
I like comments, but I don't expect you to comment everyday. That would be silly!
My beliefs (because I think they should be front and center and not hidden in an old post):
1. I believe in one God. I believe that God created heaven, earth, the whole universe and everything in it.
2. I believe that Jesus is the Son of God and that he was dead and rose again. I believe that he lives now and will come back one day.
3. I believe that God loves all people, not just white people, not just black people, not just the republicans, not just democrats, not just the rich, and not just the straight. He loves ALL people, even those the we deem to be unworthy of love. He is the ultimate EEO policy.
4. I believe that no one is perfect and we have no right to truly judge others. In the words of Tupac, only God can judge me.
5. I believe that hating someone just because of what they are is stupid. I know we all have our prejudices and have probably laughed at a racist joke or two (myself included), but the deep hatred of someone because of race, ethnicity, religion, socioeconomic stauts, sexual preference, height, age, etc is dumb. It's just dumb and it's not Biblical no matter what people say.
6. I believe it's ok to question what you believe sometimes and it's ok for others not to believe what you believe.
Enjoy!
For dramas I have seen, am watching and my to watch list, please see my drama list:
Please note that as of 31 December 2013, Hottie of the Week will be ending. Any suggested before then will be made a HOTW at some point during 2013.
Comment here with your suggestions and I will add them to the list!! Please note that the final selections of who will be hottie of the week are at my discretion. Basically, I have the final say. All comments are screened. Edit: All candidates suggested in 2013 will be used so resuggest any hottie you really want to have a week.
Suggestion Guidelines:
-Must be male
-Must be famous enough that I can find 6-10 different pictures of him
-Must be born on or before December 31, 1992 (aka turning Western 21 during this calendar year). We are all adults, so no young boys please.
(
Suggestions so far....
Collapse
)
Last Updated: August 15, 2013